GolfChat
#GolfChat is for golfers from all over who want to connect and share their joy for the sport.
Every Tuesday starting at 8PM EST/5PM PST follow along by typing #GolfChat into Twitter search and adding #GolfChat to your tweets.
Learn more about how to join in, How to Participate in #GolfChat.
Recent Articles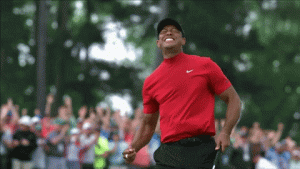 What was most meaningful about Tiger's win this past weekend? Was this the best Masters ever? Whose performance was the most surprising? These questions and more this week on #GolfChat!  5 PM PST (click this link to get your local time)
This Week's #GolfChat Questions
Q1: What has you excited about golf this week? #GolfChat
Q2: What aspect/moment of Tiger's win on Sunday had the biggest impact on you and why? #GolfChat
Q3: Prediction time: with this win coming less than two years since his comeback started, how has your view of Tiger's future changed? How many wins/majors do you see him winning now versus what you thought before his #TheMasters win? #GolfChat
Q4: Where do you rank the 2019 Masters in terms of best golf tournaments you've ever experienced? New #1? #GolfChat
Q5: Stealing a question from @KylePorterCBS's The First Cut podcast, what is your biggest surprise and biggest disappointment from those that competed in this year's #TheMasters? #GolfChat
Q6: @ZebWelborn thinks the post-Masters interview in Butler cabin with the low amateur kills the energy of the win. Do you agree? Should they change how they conduct the post-round celebrations? #GolfChat
#GolfChat POLL: If we created a #GolfChat golf weekly fantasy league (pick Tour players for each tournament and collect points based on how they perform) would you join in and participate?
Tips for good #Golfchat:
1. Follow @realGolfchat and the hashtag #GolfChat.
2. Retweet the questions to spread the #Golfchat love.
3. Follow other #Golfchatters and follow back if they follow you.
4. Ask us questions for next week!
Ben Grehan
Ben Grehan carries on the illustrious heritage of #GolfChat hosts and brings with him a background of scrappy, non-institutionalized, down-to-earth logic and a passion for golf and good conversation. He is the humble protege of previous host Zeb Welborn, a far more accomplished man: Find out more.