Welcome to #GolfChat! Who's joining us and are your Christmas lights and decorations up yet?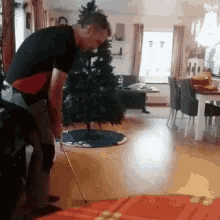 This Week's #GolfChat Questions
Q1: How was your past week in golf? Did you play or is the season over for you? Did you watch The Match 3? What's something new you learned? #GolfChat
Q2: PGA and ET announced a "Strategic Alliance" Friday. The 2 Tours are exploring working together on strategic opportunities including global media rights in certain territories. 1st step in a takeover? Thoughts? #GolfChat
https://www.pgatour.com/company/2020/11/27/pga-tour-european-tour-announce-landmark-strategic-alliance.html
Q3: PGA tour coach @shkeengolf asked over the weekend about seeing MIXED team event Ryder Cup style that includes 6 men & 6 women on each side. @jecleary66 favors international teams w/round robin pool play. How would you set it up? #GolfChat
Q4: @talkinstatic asks "When you get a caddie what are you expecting from them?  What are your expectations? #GolfChat
Q5: My inbox was overrun with Black Friday and Cyber Monday add for golf, did you buy yourself anything because it was on sale? #GolfChat
Q6:  What are you looking forward to this week? #GolfChat
#GolfChat Poll: Did you play on your HS Golf Team?
Tips for good #GolfChat:
1. Follow @realGolfchat and the hashtag #GolfChat.
2. Retweet the questions to spread the #GolfChat love.
3. Include the hashtag #GolfChat in your answers.
4. Ask us questions for next week!