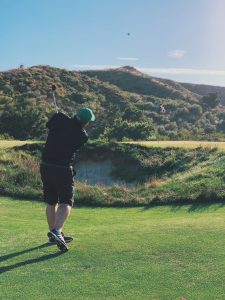 Photo courtesy of @BogeysChasing
THIS WEEK:
Bryson rocks the golf world, so now what? Then, COVID ruined a lot of things this summer, how has it impacted you? All this and more, come join us starting at 5:30 PM PST (click this link to get your local time)!
This Week's #GolfChat Questions
Q1: What has you excited about golf this week? #GolfChat
Q2: @hole19golf asks "If #BrysonDeChambeau wins a first major in 2020, where is it most likely to happen?" #GolfChat
Q3:  @talkinstatic wants to know "What do you do at the gym or in your fitness routine to improve your golf game and will seeing Bryson's success change anything for you?" #GolfChat
Q4:  @1beardedgolfer wants to know "What golf trip/tournament/event has #COVID-19 stolen from you this spring or summer that upsets you the most?" #GolfChat
Q5: @Back9Ben asks "What is your preferred #COVID-19 golf hole modification? Pool noodle? Upside down cup? Raised cup? Something else?" #GolfChat
Q6: @StretchZEllis asks "What's the most shocked you've ever been on a golf course (golf related, text, celebrity news, weather, whatever)?" #GolfChat
#GolfChat POLL: Would you rather play golf on a hot day if the course is less crowded or on a cool day but with crowds?
Tips for good #GolfChat:
1. Follow @realGolfchat and the hashtag #GolfChat.
2. Retweet the questions to spread the #GolfChat love.
3. Include the hashtag #GolfChat in your answers.
4. Ask us questions for next week!
Comments
comments