Golf Digest conducted a survey and found that the two aspects of a golf course that make golfers the happiest are course conditions (mostly the conditions of the greens) and the design of the course. Knowing these things before you go to the course is becoming more important, as green fees certainly aren't decreasing.
Best of luck, however, if you want to find out information online about conditions and design aspects for your local muni or that distant course you buddies have whispered about. Many golf websites only offer just the basics with rates and a scorecard. Not only that, but some golf courses take this lack of digital engagement a step further by abdicating control of their website to a management company, making the information uniformly limited.
Now you might be saying, "So what?" The scorecard gives you an adequate sense of what a day on the links might entail, and some intrepid bloggers (like me, hint "please read my site!" hint) do post photos so you aren't going in completely blind. Plus you talked to that random guy in your foursome last week and he was raving about a certain course and you can always call the course.
Sometimes it's even good NOT to have too much information.* If I am lucky enough to find myself on a Top 100 course, I usually try to limit my research so I can take in the course through fresh eyes and not be colored by other people's opinions and discovering for myself how to play a hole as the architect intended.
However, I think a course having a substantial digital presence makes the "in real life" experience so much better when you show up to the course. Let's take a look at St. Andrews' digital presence, although admittedly it is a bit unfair to put a muni up against the Old Course (a simple Google search comes up with 1,030,000 links for the courses).
No matter the pedigree, St. Andrews' website is about as detailed as a golfer could ever hope for. Not only does the website have the customary rates and scorecard sections but it has a "busy times" section so you can try and avoid the member or club outings they have there. They have a "latest news" section to keep you updated on the course and if you want to see course or weather conditions? They have a webcam to cover you. They also have information about rental clubs, caddies and anything else golf-related for those courses.
All of this information makes for more informed selections of courses and tee times and thus leading to a better golf experience. I sure wish I had this information during a recent trip to Palm Springs.
Palm Springs has more golf courses than you can shake a stick at including some very famous ones. The rates for the courses are substantial during the cooler winter and downright cheap in the 100+ degree summer. I decided to play one of the famous courses during the summer but every green ended up looking like this: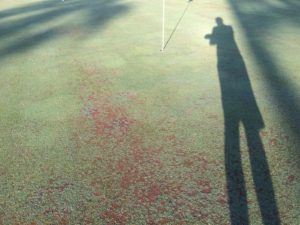 Later I found out they were letting the greens die out to change them over for the summer temps. Was there any word of this online? Nope! Would I have picked a different day to go to play the greens before or after death? You betcha!
This is an extreme example but I think more information makes for a better golf experience and thus a happier golfer. You know what the conditions are before you go spend your time and money on the course and you get a sense on whether you would like the design of the course. Much like the mantra "do your work on the range" before you come to the course, do you work on the computer before you book a tee time.
Courses have to help you out though. It's not enough to have smiles in the pro shop, a good hot dog in the snack shack or GPS in the carts. You should know that when you book your tee time, the course is in good shape and has design elements that interest you in playing. Plus, how many of us would kill to know if there was a group outing the day we booked our round?
Until more golf courses get their online act together, I suggest checking out websites like Greenskeeper, which helps fill in the gaps by having up to date course reviews, deals on rounds and most importantly, alerts about green punching and other course maintenance. As GI Joe, said, "Knowing is half the battle," so golf courses, be like Joe and help out us golfers!
* None of this applies to Cypress Point, my dream course with no website. Keep those pictures, stories, facts and figures coming! And please invite me!
Follow Pete Flanigan on Twitter @ReGripped
---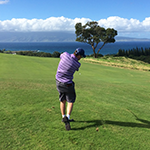 Pete Flanigan a/k/a ReGripped has more musings on golf that you can read at www.re-gripped.com. You can follow his quest to play all of the Coore Crenshaw designed golf courses at www.coorecrenshawquest.com. If you know of any way for ReGripped to play Cypress Point, he will put on a giant gingerbread costume and dance in front of your house. You can catch ReGripped live and direct on Twitter every week for #GolfChat.
Back to #GolfChat Authors
Comments
comments