One of the most talked about factors preventing new players from flocking to golf is the pace of play. This major detractor is also a constant source of frustration for experienced players trying to enjoy their precious time on the links. If slow play is such a recognized problem, why is this important issue overlooked by so many golf courses!
Spending hours in the hot sun, watching players line up 3 foot putts from every angle only to miss it every time, grates on everyone's nerves! Or following the social players who walk and talk to every player's ball as they slowly lose ground on the group in front! Pace of play is important on a golf course; just ask any player waiting on every shot!
Where are the course strategies needed to improve pace of play? As it turns out, the USGA is trying to address this problem at their annual Pace of Play Symposium. Yes, I am not kidding a Pace of Play Symposium! At one meeting, they suggested that better spacing of tee times would help reduce log jams on the course and course set up is a contributing factor to how quickly players loop the course.
The R&A has recently published a Pace of Play manual which is actually a great attempt to address slow play. Golf Canada supports several USGA programs to help address the pace of play challenges faced by most golf courses: Tee it Forward and Play 9 are but two. All of these organizations say they are addressing the issue, but are they really? Considering all the effort to trying to fix pace of play challenges, nothing seems to really make any difference! Why?
The USGA, R&A and Golf Canada are using the wrong approach! They are using a passive, educational way of addressing pace of play challenges. They create manuals, place tips on their websites, or write periodic articles on pace of play and think that this will address the slow play problem. Well, their passive approach simply does not work!
Only avid golfers, who already use many Ready Golf strategies, read these articles. We seek out information on the new initiatives because we are interested in all things golf. However, the average Joe golfer does not have the time or inclination to read such babble! They just want to play!
When the defensive game is not working, it is time to go on the offensive!
Enter the golf course! They are the only real change agents in golf. They should implement the course management strategies recommended by national organizations, but they can do so much more. Golf courses are the first to interact with the public and need to be empowered to actively train and educate the masses on the importance of Ready Golf!
This common sense solution to fixing the pace of play issues is focused on overtly and consistently explaining how ready golf will enhance the enjoyment of playing golf. Golf courses are the only real solution; I am not talking about just placing signs or having clocks reminding players how quick to play, but to adopt Ready Golf strategies that work.
A program needs development where courses can instruct players on what Ready Golf is about through apps, signage, recommendations on the scorecard, clocks, marshals, discussions, educational seminars, or experts who cruise the course helping out wayward players. This program needs to be driven by the R&A, USGA and Golf Canada so that the education is uniform and consistent.
If the national organizations focused on supporting golf at the coalface, then real change would occur. Empower courses to create the conditions where golfers teach themselves. Courses need to band together and serve notice that Ready Golf is always in effect when playing at their establishment!
Many players are influenced by their playing partners, so it only takes one person who understands Ready Golf to make a difference. The numbers ready golf advocates grows exponentially as they tell two people and then they tell two people and so on and so on; until the tipping point!
Golf courses are the starters of the process. Only through continued exposure to Ready Golf will real change against slow play happen. It is time to actively educate the masses about ready golf and engrain it into their psyche.
It is time to serve notice to national organizations that the key to making any real change against slow play is to empower golf courses to educate the masses on Ready Golf!
Follow Jim on Twitter @TheGratefulGolf
---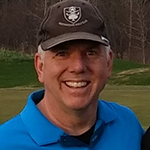 Jim Burton – The Grateful Golfer. I strive to freely share tips, drills and positive views about golf. My golfing journey has spanned 40+ years and I still love playing, reading, talking and discussing all things golf. If you are so inclined, drop by thegratefulgolfer.com and let me know your thoughts on golf.
Back to #GolfChat Authors
Comments
comments