The emotional roller coaster of the 2016 Ryder Cup can only be described as mayhem out of control. Every fist pump, goofy grin, knuckles or slumped shoulder accentuated the investment of the pro golfers on both teams! Unlike other golf tournaments, including the Majors, the Ryder Cup brings out the ultra-competitive nature of everyone. Playing for their country is one thing, playing for the team is a bonus but ultimately these 24 players are playing for themselves and because of that, controlling their emotions can be very difficult.
At the beginning of every Ryder Cup, the team captains quietly discuss strategy on how to defeat the other team. They talk in hushed tones and steely focus as they orchestrate every move emblematic of the 1973 chess match between Bobby Fisher and Boris Spassky. This year, Davis Love III relied on his veterans to remain disciplined and unrelenting in attempts to wear down the rookies on the European Team. Darren Clarke, on the other hand, leveraged the emotional maelstrom of his six rookies to 'shock and awe' the Americans.
As the matches unfolded over three days of competition, two players unleashed their emotions to unprecedented levels. Watching Rory McIlroy and Patrick Reed exhibit unbridled passion was amazing to watch. It reminded me of a 100 young kids at their first Easter egg hunt when they realize they get to keep the candy. They became unstoppable! Just like small children, McIlroy and Reed had difficulty sustaining this fevered pitch of emotions over the entire final round!
It was very clear that Team USA had an unprecedented emotional edge over Team Europe during the singles matches. I am not sure if the passing of golfing legend Arnold Palmer had anything to do with the obvious advantage, but I would not count out Arnie's influence. Unlike previous years, Team USA stepped up to instill, inspire, and fan the flames of emotions during all their matches. Finally the US players had an inspirational leader that talked the talk and walked the walk! Over five matches and three days, Patrick Reed was a crazy man that could not be silenced!
The epic match between Phil Mickelson and Sergio Garcia (which was the best match I have watched in any Ryder Cup) demonstrated a different expression of emotion, but no less intense. These two veterans used their guile and experience to try and overcome their opponent. However, neither would relent nor fold under the pressure. When needed, they displayed a fist pump, looked towards the crowd or even raised their hands in the air. But, it was not near the level of McIlroy and Reed. I do have to mention that the air time of Mickelson's jump reminded me of Michael Jordan in his prime; Mickelson might find a second career as a power forward in the NBA, but that is a topic for another day!
In the past, the Europeans had the likes of Seve Ballesteros leading the emotional charge. He was recognized as the one person all professional golfers tried to emulate when playing with emotions. For several Ryder Cups, he was used as the standard bearer for Team Europe. Unfortunately, Seve's influence wanes, it was finally time for someone new to step up! Rory McIlroy tried to be that emotional leader; however he was missing that 'je ne sais quoi' at this Ryder Cup. It reminds me of a puzzle missing a piece and that one piece makes all the difference.
The 2016 Ryder Cup was amazing on many levels. The one lesson Team USA must learn is that controlled emotions are important; however unbridled passion and desire are the key to future successes. Team USA became an unstoppable force that could not be denied.
All the US players should thank Patrick Reed for bringing back the key component to success at the Ryder Cup: unbridled emotion!
Follow Jim on Twitter @TheGratefulGolf
---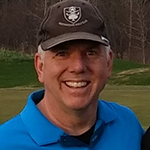 Jim Burton – The Grateful Golfer. I strive to freely share tips, drills and positive views about golf. My golfing journey has spanned 40+ years and I still love playing, reading, talking and discussing all things golf. If you are so inclined, drop by thegratefulgolfer.com and let me know your thoughts on golf.
Back to #GolfChat Authors
Comments
comments