Not having time is a popular excuse for those not getting out for golf in the evenings or weekends. Even with time off, are 18 holes in their plans?
I make time for golf, but there really are people that aren't available for a few hours during the week and are booked all weekend. Actually, lots aren't available. Casual golf is dying and restructuring of the game is needed to keep the game widespread and accessible for all.
A popular alternative is restructuring the 18-hole course into segments of 6, or three separate 6-hole courses. Ideally, golfers are close to the clubhouse and parking lot after the 6th, 12th, and 18th green and 1st, 7th, and 13th tees. Players can play 6, 12, or 18 holes.
Sometimes on an 18-hole round, I struggle at the end, mentally and physically. If I am a member and hole 14 green is near the parking lot, I can call it a day and relax, spending time with family an extra hour. An 18-hole green fee entitles 18 holes. Your decision is fulfilling it. It's not compulsory to play 18 holes but it's worth your money to.
While unlikely 12 or 14-hole rates will be applied at 18-hole courses mixed with members and 18-hole green fees during the afternoon, 14- hole rates are an option for evenings as Super Twilight. Playing 14 holes is about 71% of the course. 71% of a $30 green fee becomes $21.30 Super Twilight.
I work in August and September until 7pm but can tee off at the Links at Crowbush Cove by 7:30pm and play 9-14 holes in August and 5 in September. The clubhouse is after Hole 5 while the parking lot is after Hole 14. Should they introduce a super twilight rate after 7pm for those wanting to play 80 minutes of golf? How about 2.5 hours after 6pm? I think so. It provides profit for the course with extra tee-times and less money spent for the customer.
A golf resort in Missouri, The Lodge of Four Seasons, introduced an hourly rate for a few early tee times, late times, and down afternoons on the tee sheet, at management's discretion. It is discretionary because players couldn't play at a speedy rate to justify the deal while reducing chances of injury from players getting hit with balls from groups behind.
How does staff keep track of golfers playing via hourly rate? Carts are tracked with GPS and golfers pay after golfing. It is a keen idea for players at 6am, giving valuable incentive to tee-off at 6am as others are sleeping comfortably. Evening warriors get to play practice holes instead of practicing for an hour at the driving range or putting green. Innovative idea by The Lodge of Four Seasons Director of Golf, Matt Tausig, PGA.
In my 2nd year of Golf Club Management, the class was assigned to create an 18-hole facility blueprint for an area once proposed for golf development. I designed quality holes according to scale until noticing I'll run out of room. The last 4 of 5 holes became par-3's. Unconventional but likely fun, I decided golf isn't 18 holes or bust, or 9 holes or bust. 18 hole courses don't have to be Par 70-74. Walkers may enjoy ending the round on a downhill par-3 than a 440 yard, uphill par-4. It's too bad the class instructor lost our maps and we never got to explain our facilities.
Googling, "6 hole golf course", I discovered a 6 hole course in Qatar, designed by Jose Maria Olazabal, and numerous 12-hole courses worldwide. It sounds ideal to create in a larger town/city where land is at a premium but golf demand is also high. The 6-hole course at Qatar International Golf Club is as thoroughly maintained as its 18-Hole Championship Course and features floodlights for evening play3. Fewer holes don't affect its quality. Very cool.
18-hole tournaments can take up too much time. I love four player Ambrose/Texas Scramble tournaments but the thought of "Alternatives to 18 Holes" got me thinking of alternate tournaments.
For example, 3 player teams compete in an 18-hole tournament. Player One plays holes 1-6; Player Two holes 7-12; and Player Three holes 13-18. A player only available for 2 hours gives lots of time of compete. This works for stroke play, stableford, 3vs3 match play, and team skins, with no problem hosting a shotgun at 6:30pm-7pm.
On a facility with three 6-hole courses, or proper 6-hole segments, the tourney can play with a relay style. Group 1 passes the scorecard to Group 2 at the 7th tee and they pass it to Group 3 at the 13th. Players have to make greater choices in course management, especially for the Anchor golfers in Group 3.
One major advocate for 18-hole alternatives is Jack Nicklaus, one of the greatest golfers of all-time, if not THE greatest golfer of all-time. Below is a quote from Nicklaus in an interview with Golf Digest in 2008:
"The game is more popular than ever among avid golfers with the income and leisure to play a lot, but most people have less free time than ever. The current generation of younger parents spends a lot more time supervising their kids than previous generations, and it means they find it harder to justify a weekend round of golf. Leaving for the course at 7 in the morning and coming back at 3 in the afternoon is a hard sell for a family man. But getting back in time for lunch wouldn't be."
That's why we should consider the possibility of making 12 holes a standard round. It might mean breaking up 18-hole facilities into three segments of six holes. Of course it would meet resistance, but eventually it would be accepted because it would make sense in people's lives."
In 2016, Nicklaus spoke at the 2016 HSBC Golf Business Forum at the Marriott Sawgrass Resort and Spa.
"We should continue to look at changing formats. We've done 12-hole events, and the feedback among women, beginners, juniors, and seniors is that they loved it. If something as simple as that can bring people into the game and keep them, which is important, we have got to get serious about doing anything out of the box or unconventional."
Powerful words from the golfing legend. Aside from avid golfers with income and leisure, people have less time. 12 holes is a solid compromise for a family person who can leave at 7am for golf and get home for lunch. For walkers, 12 holes is great physical activity while 6 holes is good practice and also great physical activity. Golf lovers can't be alienated from the game due to time variables. Low participation leads to the action of closing golf courses and further non-participation.
My friends, fellow members, and I experienced a home course closure in 2012. Some stopped playing or just play twice a year. Recently, we play together more, but not near the weekend evening and weekend outings we used to at "The Beaver".
Thus, I advocate alternatives to 18 holes, and other aspects of golf. Jack Nicklaus advocates alternatives for the betterment of golf's future, and Greg Norman advocates music on the golf course. Tradition is important. It deserves its place in the game, but it isn't helping growth.
In the age of innovation and constant updates, human traditions aren't held as fierce. Different lifestyles suggest different ways to experience the enjoyment of golf.
There are alternatives.
Follow Rodney on Twitter @roddogg
---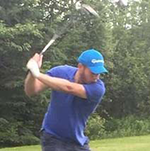 Rodney is a graduate of Golf Club Management at Holland College and lives on Prince Edward Island, Canada, a popular golf destination. He works long hours fishing and farming, but during time off he golfs frequently, spends time with club repair, checks out golf news on Google, and interacts with golfers on social media. Rodney's golf blog contains opinionated golf talk, but also clear and concise views.
Back to #GolfChat Authors
Comments
comments