For years, the perception was that the LPGA struggled to remain viable. They never seemed to generate the same viewership of the PGA, European, or Champions Tours. Some pundits suggested that the women's game was not on par with the men because there was no real flash, no power, or that it just not that exciting. Of course this perception is bogus; if you have ever watched the LPGA Tour, you would certainly agree that these ladies have game!
Unfortunately, somewhere along the way, promoters were convinced that to sell women's golf, they needed to jazz things up! They followed the marketing strategy of other sports, that objectifying women sells. So they focused on beauty versus skill. They used images of non-professional female golfers holding clubs to catch your attention. Showing a woman in tight, revealing shorts, skirts, and tops was the way to increase sales and conversely promote golf.
However, this is where I veer from the mainstream view about women and golf. The objectification of women is not selling the sport, they are selling a product, idea, or typecast of something other than golf. The media strategy of showing a woman (who fits a fantasy from someone's imagination) not dressed for golf, in positions never seen during a golf swing or holding a golf club in a manner to accentuate certain body parts is not focused on golf. This strategy is about consumers who, for the most part, don't care about golf; regrettably this strategy is economically viable or else they would stop using it.
The use of sex as a marketing strategy goes much deeper than golf. From the early stages of women's lives, most comments (meant as a compliment) focus on their looks vice their intelligence or performance. What a poor lesson we teach to half of the world's population; talk about setting women up to fail. However, exploiting this message appears to be successful at pushing products, but does nothing to grow women's golf.
Like lemmings, the mainstream media embraces this (in my opinion) failing strategy in order to sell to consumers. Economics drives how women are portrayed in advertising and golf is but a small subset of the overall picture. It's as if the line from Billy Crystal's famous song – 'You Look Marvellous,' which goes, "Nando, don't be a schnook, It's not how you feel, It's how you look," has taken over the world!
In today's "in your face", instant access, instant gratification social media strategies, the real women of golf become overshadowed! This approach acts as a detractor for women who how don't fit the implied mould, but want to take up the game.
Moving away from mainstream media trying to sell stuff, women's golf magazines focus on how to be better golfers. It is these publications where women's golf is best represented; they catch our attention with golfing issues important to women. The LPGA Tour, in my opinion, endorses the challenges of becoming a golfer and follows the primary media model of improving at golf.
Golf, in its purest form, has nothing to do with how a player looks. It is a sport where hitting a white ball into a hole in the fewest strokes is the goal. There is no perfect body type or magic apparel that holds the secret to better performance on the links. It is a sport where personal results might be just having fun, a means of social interaction, or an avenue to compete; ultimately, each player determines what they want out of golf.
Economics is a core reason why women are portrayed in a manner not conducive to the growth of women's golf. This strategy hones in on consumers with no real regard for anything but to sell something. Until this model fails, it will continue to be used; unfortunately, pending the growth of golf issue advertising budgets, the current economic model of sexi selling women's golf will not disappear! But I will contend that this strategy does not represent women's golf, it focuses on consumerism.
Women golfers interested in starting or improving at golf would do well to quickly look past the initial barrage of nonsensical advertising. If they can see past the initial layer of craziness, they will realize that there is a completely different foundation to golf. At its core, women's golf is a world of universal lessons in confidence, discipline, and self-control. It is a sport that embodies a positive message of personal growth. It empowers us to be successful, engaged, and ultimately to have fun. It is time to balk at mainstream consumerism and focus on the real issue; women playing golf.
Follow Jim on Twitter @TheGratefulGolf
---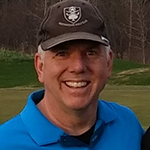 Jim Burton – The Grateful Golfer. I strive to freely share tips, drills and positive views about golf. My golfing journey has spanned 40+ years and I still love playing, reading, talking and discussing all things golf. If you are so inclined, drop by thegratefulgolfer.com and let me know your thoughts on golf.
Back to #GolfChat Authors
Comments
comments