I have to say something.  I can't be silent or hold it in any longer.  It must out.
The Ryder Cup is upon us and the run-up to this contest of the giants of men's professional golf always spawns controversy.  It goes with the territory – a territory that is interlaced with pride, nationalism, patriotism, competition and a heaped-to-the- oxters cartload of fun.  There is no prize money but there is a beautiful cup and a shedload of pride at stake.
And I'm not just talking about the golfers.  It invades the mentality and thinking of the fans on both side of the Atlantic divide and those, worldwide, who reside cosily in their armchairs as TV followers.  It's the way it should be as we walk the course live or ogle the goggle box as twenty-four men play team tactics and individual games to earn the right to bring home the Ryder Cup.  It's Europe versus America and should be done in the spirit of golf with dignity and bonhomie – an unwritten rule that applies whether you are playing, watching or commenting.
Then there's the banter.  "The banta" is an integral part of the game.  It doesn't matter whether it's "platformed" on social media, scrunched about by leading sports commentators in the newspapers and on the telly, or dependent on exchanges between friends.  The banta is meant to excite and illuminate, never devour or intimidate or exorcise.  Those are the givens.  Bring it on, I say, and let two landmasses, divided by a common language, have the time of their golfing lives.
So, in this busy orchestra of Ryder Cup sounds and with everyone playing vigorously in their particular movement of the symphony, it was all going to plan.  As in any symphony orchestra, there is the expected sonata.  That's the solo.  And it came, loud and proud and, unexpectedly, way out of context.  Not good.  But it also came from a surprising quarter.  Pete Willett, brother to our brilliant green jacket winner at The Masters this year, struck up the solo chords. This Sheffield steel boy was playing brass band when he should have been playing orchestra.  Yup, he was playing sonata without a string to his bow.  That's okay when you're in the colliery band league but not when the rest of the crowd has elected to play with the full orchestra.
Peter went hardcore satire on Team America.  Satire is good in the right place and in the right time with its use of humour, irony and exaggeration but it is also used to ridicule, expose and criticize and needs a wise hand to temper it.  The article itself, published by National Club Golfer Magazine, was confrontational but honestly addressed some negative issues with golf's American gallery of on-course followers.  It was published in the week leading up to the Ryder Cup when the media are hungry for stories and will pounce on the least of notions to produce a mountain of a story.  It found it in Peter Willett's musings.
And Peter rocketed it into the stratosphere when he tweeted it out with a tag line that read " And I mean every word".  However naïve or innocent his intent, he crossed the fine line between sarcastic and sardonic satire and the read became uncomfortable.  Fervent Team Europe supporter that I am, avid follower of Peter Willett and lover of a bit o'banter, I was far from impressed with an outpouring that was no longer a funny send-up.
Meanwhile, Danny has done it all the right way and was busy assimilating himself to Team Europe style.  He's prepared well, spent his time in team building, and knows that his greatest achievement to date has been on American soil when he whoop-assed his way along the fairways of Augusta to clinch the Masters.  American supporters cheered him home.  I am in awe of his dedication and style of play and, all the more so, because his brother Pete highlighted and illuminated his golfing brother's life from the inside track.  You got the distinct impression of a solid family, full of humour and leg-pulling and sibling rivalry but bound together by the overarching "bromance" that exists within the bonds of love of a decent family.  Pete took Twitter down with his riffling commentary on his brother Danny while Danny was all the while taking Augusta down.  But this time, it looks like Peter has pinned a bullseye target to Danny's back: it screams "Hit me with Baba Booey and Mashed Potatoes" for sure and I would be horrified if this turned out to be true.
It smacks of distraction, poor judgement, lack of sportsmanlike behaviour, draws attention to an individual when it's all about team behaviour and, most of all, kills the joy.  We may have won three Ryder Cup victories on the spin but neither team nor captain need the hassle of unwarranted media attention and hostile crowds.  There's a lot at stake.  And Danny is a rookie who needs not to have the anticipated and unsolicited burden of dealing with the negative responses of a gallery who may see him as the available face of the Willett rant.
With this faux pas on my mind, I asked myself what lessons I had learnt from this Ryder Cup preamble shambles.  The list became almost biblical.
Speak the truth but speak it in love
Reign in the satire; loose the laughter
Know the difference between banter and badmouthing
Focus on the positives of the task; add whatever you can to the collective whole in a positive manner; if you can't, better to do nothing than be negative and disparaging
You don't win the Ryder Cup – or anything else – with your mouth (Segio Garcia); or your pen, laptop or opinion (Anne Foley Smith)
Just because you're right, it doesn't mean you're right
Be gracious, it's not war
Be big enough to apologise
In life as in golf, these set the margins for a life well lived.

 

I suspect the late Mr Arnold Palmer knew these lessons well.

 

To the Ryder Cup, onwards and upwards.
And, finally, if I were a teacher, I'd mark Peter's essay with a, "Could have done better.  See me" tab.
Follow Anne on Twitter @foleysmith555
---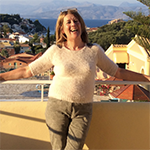 Taking up golf is not an easy decision at any age but I decided to give it a go. I'm at that age where if it's not fun, it is not worth doing. On my Golf Girl blog, I take a lighthearted look at this new world of golf in all its glories, foibles and fallacies although sometimes I will write a serious and reflective piece. Happy golfing.
Back to #GolfChat Authors
Comments
comments