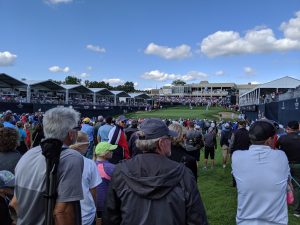 Photo of the Champions Tour's 2019 Sanford Invitational, back when crowds were a good thing. Courtesy of @Golfer_Jake_78.
We've got a lot of great golf questions this week on #GolfChat.  Come join in on the discussions! 5 PM PST (click this link to get your local time)
This Week's #GolfChat Questions
Q1: What's something golf-related you'd like to share with us this week? #GolfChat
Q2: The inimitable @maxhoma23 asked on Twitter yesterday "Do you really care about golfers wearing backwards hats, jeans, etc. or do you say it's disrespectful because fancy people have deemed it inappropriate?" #GolfChat
Q3:  @natedodge9 wants to know "Anybody ever put in a DIY backyard putting green? Cost? Difficulty?" #GolfChat
Q4:  @JasonKrump asks "With no Masters to broadcast next week, if CBS replayed a Masters from years past to fill the void, what tournament would you want to watch?" #GolfChat
Q5:  @JoeEstes "If you go play a public course in your area for the first time on a weekend prime-time, and green fee is $75 for 18&cart, what is your expectation on the day in regards to service/course/conditioning/pace/etc.?" #GolfChat
Q6: @PoMoSip wants to know "With most golf courses closed, what you done, or had to do to fill your time." #GolfChat
#GolfChat Poll" @GolfLRE asks "Would you rather see the Ryder Cup competed or all 4 majors by the end of the year?" #GolfChat
Tips for good #GolfChat:
1. Follow @realGolfchat and the hashtag #GolfChat.
2. Retweet the questions to spread the #GolfChat love.
3. Follow other #Golfchatters and follow back if they follow you.
4. Ask us questions for next week!
Comments
comments