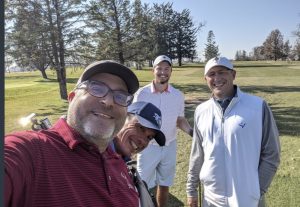 Photo courtesy of @RaphaelEivots
THIS WEEK:
DJ gets it done, Bryson doesn't, and… is Augusta too easy? Come join us starting at 5:30 PM PST (click this link to get your local time)!
This Week's #GolfChat Questions
Q1: How was your past week in golf? Where did you play and how did you do? What TV golf did you watch? What's something new you learned? #GolfChat
Q2: @daniel68butler wants to know "Is DJ's Power Fade the easiest to learn and most reliable shot to hit off the tee? What's your go-to shot off the tee under pressure?" #GolfChat
Q3: @talkinstatic asks "With @DJohnsonPGA's green reading process on display this season, I'd love to hear what process you use to read greens. AimPoint? PlumBob? Have you considered a change?" #GolfChat
Q4: @XMoralHazardX asks "Has Bryson Dechambeau's added strength and length off the tee motivated anyone to work out this off-season?" #GolfChat
Q5: @CaptPat48 wants to know "Has Augusta become too easy for today's pros and equipment? If so, what's the solution?" #GolfChat
Q6: @Mwhitey4 asks "Who would you consider the favorite for the 2021 Masters?" #GolfChat
#GolfChat Poll: TBD
Tips for good #GolfChat:
1. Follow @realGolfchat and the hashtag #GolfChat.
2. Retweet the questions to spread the #GolfChat love.
3. Include the hashtag #GolfChat in your answers.
4. Ask us questions for next week!
Comments
comments