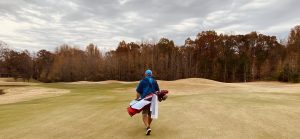 Photo courtesy of @daniel68butler
THIS WEEK:
Giving thanks for all the golf this year plus so much more! PLUS a special announcement you don't want to miss! Come join us starting at 5:30 PM PST (click this link to get your local time)!
This Week's #GolfChat Questions
Q1: How was your past week in golf? Where did you play and how did you do? What TV golf did you watch? What's something new you learned? #GolfChat
Q2: @BryanTweed16 asks "What part of your 2020 golf year are you most thankful for?" #GolfChat
Q3: @Soulglo22 asks "How do you feel about playing 9-hole rounds? Love it? Avoid it?" #GolfChat
Q4: @themobilegolfer wants to know "Of 18-hole courses in your state, which course has the best front nine and which has the best back nine" #GolfChat
Q5: @encinomandude wants to know "When buying new clubs, do you take lessons before buying them or do you buy the clubs first and take lessons after? Or do you just not take lessons at all?" #GolfChat
Q6:  What are you looking forward to this week? #GolfChat
#GolfChat Poll: @STOV3TOP "If you get a hole-in-one on a temporary green do you count it?"
Tips for good #GolfChat:
1. Follow @realGolfchat and the hashtag #GolfChat.
2. Retweet the questions to spread the #GolfChat love.
3. Include the hashtag #GolfChat in your answers.
4. Ask us questions for next week!
Comments
comments