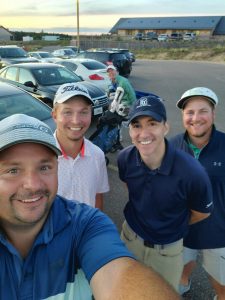 Photo courtesy of @tak6tak, featuring him (left), @STOV3TOP, @OrsonRosas, and @twiterlesKale (right) with host @Back9Ben photo-bombing in the background
THIS WEEK:
Crazy weather, golf swing personalities, secret buddy trips, and more! Come join us starting at 5:30 PM PST (click this link to get your local time)!
This Week's #GolfChat Questions
Q1: Tell us about your past week in golf: where did you play and how did you do? What TV golf did you watch? What's something new you learned? #GolfChat
Q2: @GOLFTEC recently retweeted a story of a player who saw noticeable improvement after replacing his 30-year old clubs with newer ones fitted for him. @FastestSurgeon thinks it was more the newer tech than the fitting that helped. What are your thoughts? #GolfChat
Q3:  @golfgetaways asks "Who are the best and the worst people you've ever been randomly paired with on a golf course?" #GolfChat
Q4:  @youngin_uk asks "What are your thoughts on hybrid irons?" #GolfChat
Q5: @XMoralHazardX asks "Has anyone ever been ghosted after a golf invite?" #GolfChat
Q6: What are you looking forward to this week? #GolfChat
#GolfChat Poll: @rbmcrae89 asks "Do you think more players at your local golf club sandbag for a higher handicap or have an artificially low handicap because they don't always play it down or putt it out?"
Tips for good #GolfChat:
1. Follow @realGolfchat and the hashtag #GolfChat.
2. Retweet the questions to spread the #GolfChat love.
3. Include the hashtag #GolfChat in your answers.
4. Ask us questions for next week!
Comments
comments