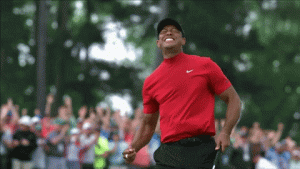 What was most meaningful about Tiger's win this past weekend? Was this the best Masters ever? Whose performance was the most surprising? These questions and more this week on #GolfChat!  5 PM PST (click this link to get your local time)
This Week's #GolfChat Questions
Q1: What has you excited about golf this week? #GolfChat
Q2: What aspect/moment of Tiger's win on Sunday had the biggest impact on you and why? #GolfChat
Q3: Prediction time: with this win coming less than two years since his comeback started, how has your view of Tiger's future changed? How many wins/majors do you see him winning now versus what you thought before his #TheMasters win? #GolfChat
Q4: Where do you rank the 2019 Masters in terms of best golf tournaments you've ever experienced? New #1? #GolfChat
Q5: Stealing a question from @KylePorterCBS's The First Cut podcast, what is your biggest surprise and biggest disappointment from those that competed in this year's #TheMasters? #GolfChat
Q6: @ZebWelborn thinks the post-Masters interview in Butler cabin with the low amateur kills the energy of the win. Do you agree? Should they change how they conduct the post-round celebrations? #GolfChat
#GolfChat POLL: If we created a #GolfChat golf weekly fantasy league (pick Tour players for each tournament and collect points based on how they perform) would you join in and participate?
Tips for good #Golfchat:
1. Follow @realGolfchat and the hashtag #GolfChat.
2. Retweet the questions to spread the #Golfchat love.
3. Follow other #Golfchatters and follow back if they follow you.
4. Ask us questions for next week!
Comments
comments