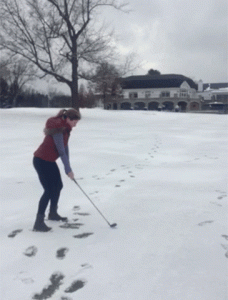 How long has your winter golf drought been? Where do you like to go play when it gets cold? Best golf gift ever? These questions and more this week on #GolfChat!  5 PM PST (click this link to get your local time)
This Week's #GolfChat Questions
Q1: It's Tuesday! What has you excited about golf this week? #GolfChat
Q2: @ShootingYourAge asks "Now that it's winter, when was the last time you actually got to play?" We have a feeling our southern/Cali friends will enjoy answering this one… #GolfChat
Q3: @ReGripped asks "Where is your favorite winter golf destination/course?" #GolfChat
Q4: @BryanTweed16 asks "What's the best holiday golf gift you're ever received?" #GolfChat
Q5: A few weeks ago we asked about the 2019 rule changes and how they impact YOUR game. @Bags2121 asks "What do you feel is the most important and least important rule change for the pros?" #GolfChat
Q6: @krismcewen is going to the @PGAShow next month and wants to know "Is there anything specific you want covered or shared with the #GolfChat group?" Also, who else is planning on going? Let Kris know!
Tips for good #Golfchat:
1. Follow @realGolfchat and the hashtag #GolfChat.
2. Retweet the questions to spread the #Golfchat love.
3. Follow other #Golfchatters and follow back if they follow you.
4. Ask us questions for next week!
Comments
comments