For over 500 years, golf has waxed and waned in popularity. The exponential growth of golf in the 80s and 90s is being countered by the leaner years of the 21 st century. As a result, for the first time in modern history, the focus on growing golf is shifting to women and juniors. This article will focus on juniors, but does apply to women in many areas. The logic of most national organizations is to expose potential new players earlier in their lives in hopes of creating life-long converts.
The challenge faced by most golf organizations is to reach juniors to play golf. They offer golf camps, specials rates, and training opportunities to expose new players to the fun benefits of golf. They have on-line media campaigns and "at your touch" services to help the ill-informed understand how golf can help enrich their lives. These efforts are well received, but unfortunately, they miss the mark in these areas: cost and making the game fun!
Golf can be an expensive sport. It is difficult for families to afford golf. The cost of balls, clubs and green fees are only a few expenses faced by new players. Add in the cost of gas, food, sunscreen, and bug spray to the mix and the cost of golf really adds up. Cost is a challenge, however if the beginner loves to play, then the cost becomes worth it!
On two separate occasions in the last month, I was asked by friends for the best place to purchase clubs for one of their children. They were looking for decent sets, but where to by clubs was a challenge for them. They both mentioned how difficult it was to find junior clubs and that it was a bit frustrating for him and their kids.
We talked about what their intent was, if the child was really interested or just wanted to try it out, or if they were playing with friends. Since both kids were just starting, I told them to by an inexpensive set of clubs for their first year. Let them raid your shag bag for golf balls and give tees and a towel from your bag. Basically, I was trying to keep their expenses down when their child was first starting. You never know if they will want to continue playing after a short time.
We talked about the time commitment for players first introduced to the game. Some beginners want to play all the time, however others are less committed. I explained that it was important to "play golf" in smaller time chunks and grow their exposure by their desire.
I recommended that new players hit the range first. Let them hit lots of balls and help with their swing sparingly. Let them practice chipping and putting. Play silly games with them, but most of all be engaged in their time at the course; the first golf outings should last about 30-40 minutes maximum. Then celebrate by going for ice cream or something. Make it fun to play golf with you!
Once they start to have fun and grow in confidence, it is time to hit the course. I recommended an executive course first, especially for young players. Executive courses are challenging and fun for everyone. At the course, it is important to try and find players similar to the age of their child.
If they see that golf can be a social sport, they are more likely to want to continue playing. After all, golf is a contact sport!
An important and less talked about over-arching challenge for golf is the stigma. The image of golf is that it is a sport for older men with money who find refuge at the golf course. These staunch supporters of golf's heritage do not like change. They do not want anyone interfering with their "me" time. Well, golf has to change. Golf organizations have to continue to break down many of the obstacles already in place that prevent juniors from taking up the game. Golf's stigma, of all issues, will be the hardest to break! It is difficult to shape the future, when those guarding the future do not what to change.
This is where the current approach of most golf organizations will pay benefit. Go around the old guard. Continue focusing on younger players and show them how much fun golf can be. I recommend talking to school-aged players. Take golf to the schools; let young players try swinging a club in a fun learning environment. Help establish junior programs at golf courses that are inexpensive and focused on having fun with the game. On a side note, one course offers free junior memberships and another allows juniors to play for free with an adult, both are great initiatives for junior golf which more courses should adopt. If enough juniors take up golf, the old stigmas will fade away and then golf will be the inclusive sport of the future.
Juniors are the Future of Golf. The expanding membership and future superstars will help break down many roadblocks in place today. With continued efforts by national, regional and local golf associations, golf will grow to benefit all players.
I am a grateful golfer! See you on the links!
Follow Jim on Twitter @TheGratefulGolf
---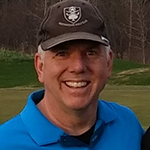 Jim Burton – The Grateful Golfer. I strive to freely share tips, drills and positive views about golf. My golfing journey has spanned 40+ years and I still love playing, reading, talking and discussing all things golf. If you are so inclined, drop by thegratefulgolfer.com and let me know your thoughts on golf.
Back to #GolfChat Authors
Comments
comments