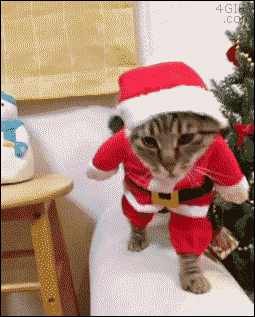 It's Christmas time at #Golfcat… sorry, #Golfchat and we're not immune to a Santa cat GIF. We know @cencalhack would approve.
Tee off with your opinions! Only on #Golfchat.
This Week's #Golfchat Questions
#Q1 from @realGolfchat – What was your favorite golf moment of 2017 & why?
#Q2 from @ndougl – What's the windiest day you've ever played golf? When is it too windy?
#Q3 from @ShootingYourAge – How do leagues, golf course supers, etc handle sandbaggers during tournaments?
#Q4 from @TheGraetfulGolf – Tell us your worst 3 putt story!
#Q5 from @catenagolfpro – In tournaments, does your club adjust hcp for players playing from different tees? If not why? #golfchat
#Q6 from @ZebWelborn, @connectgolf & @golfbandwagoner – Happy Christmas from the #Golfchat crew! How are you spending the holidays?
Tips for good #Golfchat:
Retweet the questions to spread the #Golfchat love and get more people involved
Follow other #Golfchatters and follow back if they follow you.
Remember #Golfchat is on at 5 PM PST (click this link to get your local time)
Comments
comments