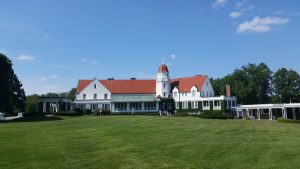 Photo of the Chicago Golf Club clubhouse, courtesy of @GhostPandaColin
Are your new year's resolutions still intact? Is the PGL for real? What golf trip are you looking forward to most this year? We're talking about that and much more on #GolfChat this week, come join in on the discussions! 5 PM PST (click this link to get your local time)
This Week's #GolfChat Questions
Q1: What has you excited about golf this week? #GolfChat
Q2: @Wallajay wants to know "Almost a month into the new year, how are your 2020 golf resolutions and goals holding up??" #GolfChat
Q3: @SliceCalderon wants to know "Any thoughts on the rumoured Pro Golf League (PGL)? Only Holes 54 and larger Purses? Thoughts? Ideas? Insights? Criticism? Insults?" #GolfChat
Q4: @GolfLRE asks "How many have used CBD? Can anyone attest to its usefulness for chronic pain or arthritis? #GolfChat
Q5: @jvcolangelo asks "Would you rather attend the Waste Management Phoenix Open or play the course and why?" #GolfChat
Q6: @jvcolangelo is back with another question: "What round of golf, trip, or experience are you most looking forward to on your 2020 calendar?" #GolfChat
#GolfChat POLL: How well does your home course promote itself on social media?
Tips for good #GolfChat:
1. Follow @realGolfchat and the hashtag #GolfChat.
2. Retweet the questions to spread the #GolfChat love.
3. Follow other #Golfchatters and follow back if they follow you.
4. Ask us questions for next week!
Comments
comments