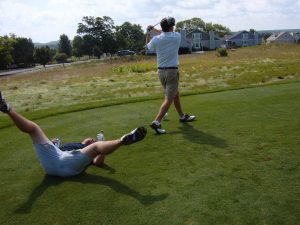 Photo courtesy of @BryanTweed16
A lot of chatter about Webb, Tony, and the WMPO this week, plus budget distance balls, golf souvenirs and more this week on #GolfChat, come join in on the discussions! 5 PM PST (click this link to get your local time)
This Week's #GolfChat Questions
Q1: What has you excited about golf this week? #GolfChat
Q2: @PoMoSip asks "Is there a more underrated @PGATOUR player than @webbsimpson1?" #GolfChat
Q3: @jeffgalowitz wants to know "Would you rather play #16 at TPC Scottsdale in front of 20,000 or #7 at Pebble Beach in front of 10 people?" #GolfChat
Q4: @garrett_lyon asks "For beginner golfers buying cheap distance balls, does brand matter? Should they wait until after they've played a few rounds to decide on a ball?" #GolfChat
Q5: @taracoates wants to know "What's your best golf souvenir?" #GolfChat
Q6: @scheibel_s asks "Have you ever played with rented or borrowed clubs while on vacation or a business trip? How'd it go?" #GolfChat
#GolfChat POLL: @PoMoSip is back to ask us: Will Tony Finau recover from a devastating playoff loss and go on to win this year?
Tips for good #GolfChat:
1. Follow @realGolfchat and the hashtag #GolfChat.
2. Retweet the questions to spread the #GolfChat love.
3. Follow other #Golfchatters and follow back if they follow you.
4. Ask us questions for next week!
Comments
comments