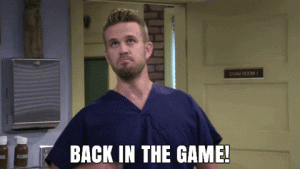 How do you get back on track: After a few bad holes?  After a bad front nine? At the beginning of a season? These questions and more this week on #GolfChat!  5 PM PST (click this link to get your local time)
This Week's #GolfChat Questions
Q1: What has you excited about golf this week? #GolfChat
Q2: @GolfLRE attended last week's LPGA Founders Cup and watched a player's game fall apart right in front of him after she carded 3 birdies in five holes. "How do you overcome a bad stretch to salvage a round?" #GolfChat
Q3: STORY TIME: @Weatherhack asks "What's the biggest 'Jekyll and Hyde' between nines you've had in one round? What happened that turned it around for you?" #GolfChat
Q4: @DannyGolfBucky4 asks "When you haven't played golf in a while, what part of your game is the easiest to get back on track and which is the hardest?" #GolfChat
Q5: @fnf2017 is curious to know "Which golf instructors/influencers on social media do you follow and whom you feel really impact your game positively via drills or other content?" #GolfChat
Q6: @JDres15 saw this tweet by @EuropeanTour on @hendygolf's literal "backstopping" the grandstands at last week's #MaybankChampionship (link: https://twitter.com/i/status/1110133223164653568).
Do you think pros using grandstands like that is clever or cheating? #GolfChat
#GolfChat POLL: @jimtfoto wants to know what you call the spot on the green where the cup is: pin position or hole location?
Tips for good #Golfchat:
1. Follow @realGolfchat and the hashtag #GolfChat.
2. Retweet the questions to spread the #Golfchat love.
3. Follow other #Golfchatters and follow back if they follow you.
4. Ask us questions for next week!
Comments
comments