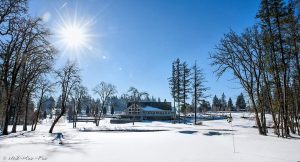 Photo courtesy of @WazMixPix
What's changed for you recently? How you shop for golf clubs? Your handicap? Your performance in a golf simulator? We're talking about that and much more on #GolfChat this week, come join in on the discussions! 5 PM PST (click this link to get your local time)
This Week's #GolfChat Questions
Q1: What has you excited about golf this week? #GolfChat
Q2: @68shooter wants to know "Have direct-to-consumer companies like @SnellGolf, @OnCoreGolf, @Sub70 etc changed the way you consider and purchase new golf equipment?" #GolfChat
Q3: BogeysChasing wants to know "How the new HCP system changed your handicap? Any interesting stories from courses over the 1st weekend with the new system?" #GolfChat
Q4: @BrianLeFerve asks "if you using a golf simulator during the winter, do you see any change in your scoring on the simulators than the real course?" #GolfChat
Q5: @DeesideGolfTour asks "How many golf courses have you played, do you keep count?" #GolfChat
Q6: @ActiveGlutes asks "Do you use Garmin, Arccos, GolfPad, etc GPS sensors in your golf clubs? If so, do you like them?" If not, have you ever considered them? #GolfChat
#GolfChat POLL: Is taking and publicly sharing photos or video of someone else's child playing golf at a public course/venue without their knowledge/consent fair or foul?
Tips for good #GolfChat:
1. Follow @realGolfchat and the hashtag #GolfChat.
2. Retweet the questions to spread the #GolfChat love.
3. Follow other #Golfchatters and follow back if they follow you.
4. Ask us questions for next week!
Comments
comments