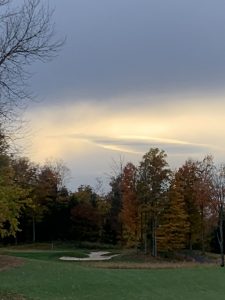 Photo courtesy of @11Scooby71
THIS WEEK:
Best fall golf destinations, winter game improvements,  "senior" tee definitions and more! Come join us starting at 5:30 PM PST (click this link to get your local time)!
This Week's #GolfChat Questions
Q1: How was your past week in golf? Where did you play and how did you do? What TV golf did you watch? What's something new you learned? #GolfChat
Q2: @taracoates asks "What are the best fall golf destinations with reliable temps 50-60 degrees?" #GolfChat
Q3: @GerardONeillJr wants to know "What's a great layout by an underrated course designer or golf pro?" #GolfChat
Q4: @ShootingYourAge asks "What do you feel is the "appropriate " age to play senior tees? 65? 70? Driving distance rather than age at all?" #Golfchat
Q5: @bsheridangolf asks "What part of your game do you want to improve this coming winter?" #GolfChat
Q6: What are you looking forward to this week? #GolfChat
#GolfChat Poll: @JerryLouLooper wants to know "Have you ever taken a caddy before?" #GolfChat
Tips for good #GolfChat:
1. Follow @realGolfchat and the hashtag #GolfChat.
2. Retweet the questions to spread the #GolfChat love.
3. Include the hashtag #GolfChat in your answers.
4. Ask us questions for next week!
Comments
comments