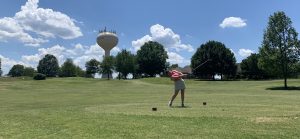 Photo courtesy of @daniel68butler
THIS WEEK:
Playing games, things to do when you're (a) single, courses to play (and pay) forever and more! Come join us starting at 5:30 PM PST (click this link to get your local time)!
This Week's #GolfChat Questions
Q1: How was your past week in golf? Where did you play and how did you do? What TV golf did you watch? What's something new you learned? #GolfChat
Q2: @Lousomumo254 asks "What kind of games do you play to switch it up while playing golf?" #GolfChat
Q3: @91husker asks "Have you ever played a true alternate shot format (alternating tee shots as well as all other shots)? Did you enjoy it? Were you worried about where your partner had to hit from after your shots?" #GolfChat
Q4: @DevonDembinski asks "When you play as a single, what are things you do to keep the round enjoyable?" #GolfChat
Q5: @Golfer_Jake_78 wants to know "If you could only play one course for the rest of your life, which one would you choose (include financial considerations based on your current situation)?" #GolfChat
Q6: What are you looking forward to this week? #GolfChat
#GolfChat Poll: @GolfLRE asks "How many golf bags do you have? Do you change out your bags like your shoes?" #GolfChat
Tips for good #GolfChat:
1. Follow @realGolfchat and the hashtag #GolfChat.
2. Retweet the questions to spread the #GolfChat love.
3. Include the hashtag #GolfChat in your answers.
4. Ask us questions for next week!
Comments
comments