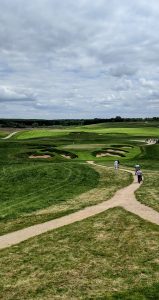 Photo of the 9th at @ErinHillsGolf courtesy of @Back9Ben.
THIS WEEK:
Keeping your cool when your scoring is hot, stories of the member's bounce, retired clubs, and much more, all this week on #GolfChat, come join us starting at 5:30 PM PST (click this link to get your local time)!
This Week's #GolfChat Questions
Q1: What has you excited about golf this week? #GolfChat
Q2: @DevonDembinski wants to know "What's your lowest score in a recreational round and a tournament round and at what course?" #GolfChat
Q3: @BradlyLoughren adds a follow up to the last question: "How do you keep nerves in check when you are having a great round?" #Golfchat
Q4: @M3WoodGolf asks "What's your best 'Member's bounce' story?" #GolfChat
Q5: @garrett__lyon asks "Are there clubs you retire and maintain as a keepsake?" #GolfChat
Q6: @Golfer_Jake_78 wants to know "If golf were to implement at 10-club rule, what clubs would you remove from your bag and why?" #GolfChat
#GolfChat POLL: @11Scooby71 wants to know "Do you play old school yardage books/pacing?" #GolfChat
Tips for good #GolfChat:
1. Follow @realGolfchat and the hashtag #GolfChat.
2. Retweet the questions to spread the #GolfChat love.
3. Follow other #Golfchatters and follow back if they follow you.
4. Ask us questions for next week!
Comments
comments