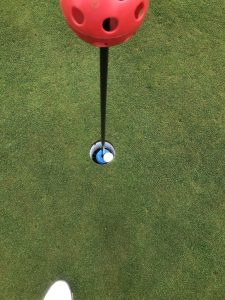 Let's all congratulate @RalphaelEivots on a hole-in-one this week! Way to go, Brad!
THIS WEEK:
Does Tiger really regret running? Would you watch PGA TOUR events with no spectators? PLUS the $25,000,000 question! All coming up tonight at a special time, come join us starting at 5:30 PM PST (click this link to get your local time)!
This Week's #GolfChat Questions
Q1: What has you hopeful about golf this week? #GolfChat
Q2:  @TigerWoods recently said in an interview that his biggest regret was running too much earlier in his career. @jnesky88 wants to know "how many golfers find this plausible?" #GolfChat
Q3: @JoeEstesPT asks "What are your favorite golf games to play with a threesome/foursome with people you know?" #GolfChat
Q4:  @GolfTravelerBOS asks "What course was an add-on to one of your buddies trip that was a pleasant surprise?" #GolfChat
Q5:  @GolfLRE asks "They just cancelled spectators at the KFT TPC Colorado event. Will you still be as interested to watch events if there are no fans?" #GolfChat
Q6:  @JerryLouLooper wants to know "Would you take $25mil to never play golf again?" #GolfChat
#GolfChat POLL: @RaphaelEivots wants to know "Would you rather play in front of another group and feel rushed or play behind a group and wait every shot?" #GolfChat
Tips for good #GolfChat:
1. Follow @realGolfchat and the hashtag #GolfChat.
2. Retweet the questions to spread the #GolfChat love.
3. Follow other #Golfchatters and follow back if they follow you.
4. Ask us questions for next week!
Comments
comments