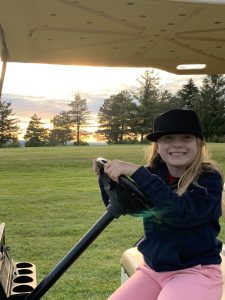 Photo courtesy of @11Scooby71.
Happy Belated Father's Day!
THIS WEEK:
Playing with patience, filming your shots, choosing your ball, and more all this week on #GolfChat, come join us starting at 5:30 PM PST (click this link to get your local time)!
This Week's #GolfChat Questions
Q1: What has you excited about golf this week? #GolfChat
Q2: @1beardedgolfer wants to know "How is your patience level playing with beginners or people of lesser skill than yourself?" #GolfChat
Q3: @BradlyLoughren asks "What is the hardest type of wind to execute a shot? Into, down, left-to-right or right-to-left?" #GolfChat
Q4: @Wallajay asks "How did you figure out what was the best ball for your game? Trial and error? Get fitted? Internet research? Something else?" #GolfChat
Q5: @ActiveGlutes wants to know "Do you film your swing or golf round? If so, what equipment do you use? Camera/phones/tripods, etc" #GolfChat
Q6: @GolfTripExperts asks "What are you most excited about RIGHT NOW in the world of golf-course design?" #GolfChat
#GolfChat POLL: @joshmillsdesign asks "Should golf brands include lofts on their iron clubs?"
Tips for good #GolfChat:
1. Follow @realGolfchat and the hashtag #GolfChat.
2. Retweet the questions to spread the #GolfChat love.
3. Follow other #Golfchatters and follow back if they follow you.
4. Ask us questions for next week!
Comments
comments