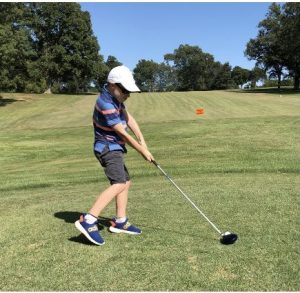 Photo courtesy of @WestofDestiny
THIS WEEK:
Hoodies, renegades, expensive swings, and more! Come join us starting at 5:30 PM PST (click this link to get your local time)!
This Week's #GolfChat Questions
Q1: How was your past week in golf? Where did you play and how did you do? What TV golf did you watch? What's something new you learned? #GolfChat
Q2: @Back9Ben wants to know "Do you consider what @TyrellHatton wore last Sunday en route to his victory at the @BMWPGA to be a 'hoodie'? What are your thoughts on the look?" #GolfChat
Q3: @themobilegolfer asks "What golf rule do you knowingly violate the most?" #GolfChat
Q4: @WazMixPix recently had a close call with being hit by a golf ball while driving and asks "Has your ball ever hit a person, a car, a window, or something else that cost you $$$? Have you ever been hit?" #GolfChat
Q5: @11Scooby71 asks "How has Golf Twitter changed your thoughts about your game and/or golf in general?" #GolfChat
Q6: What are you looking forward to this week? #GolfChat
#GolfChat Poll: @DuffCityPod asks "Do you use a line on your ball when putting?" #GolfChat
Tips for good #GolfChat:
1. Follow @realGolfchat and the hashtag #GolfChat.
2. Retweet the questions to spread the #GolfChat love.
3. Include the hashtag #GolfChat in your answers.
4. Ask us questions for next week!
Comments
comments